Here's the piccie!
Not really that busy this week.
On Tuesday, I went to the dentist and had my crown replaced – I broke a tooth when I was a child and had a crown fitted.  The crown served me well for years, but recently (as in the last five years or so); the crown has slipped ever so slightly and a gap appeared between my front teeth. There was also a black line at the top of the crown which I think was glue or something.
I was terrified, but managed to go and get it all done – I even had injections and didn't thump him!
Here's the before and after!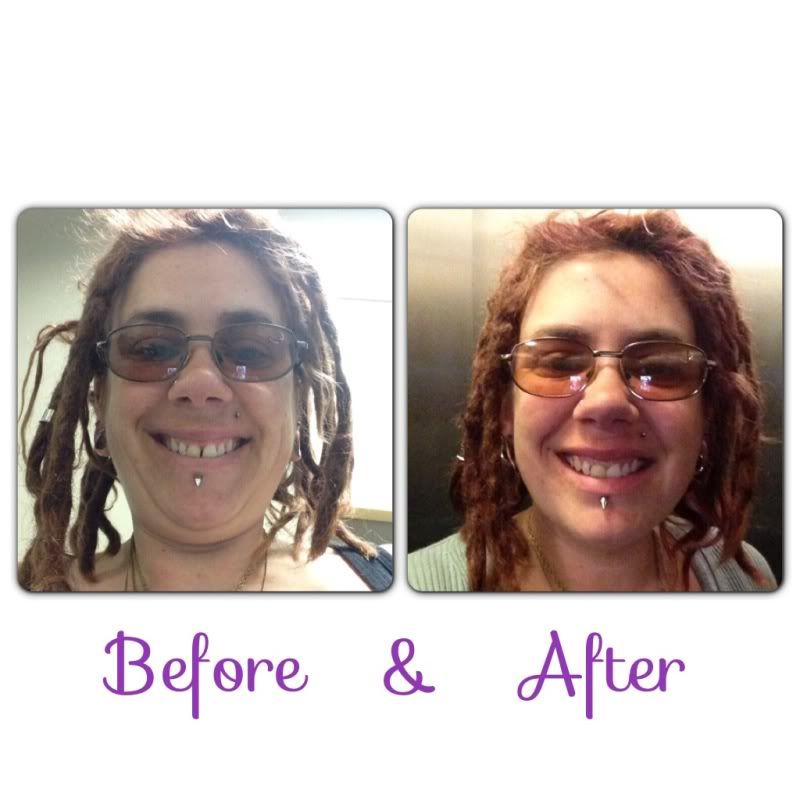 Sorry they're such crappy photos but I'm sure you can see the difference! I'm very pleased with the difference!
On Thursday I went to S&B on the bus like I normally do, we got as far as the top end of Shirley High Street and the police made us pull over; a motorcyclist had had a collision with a car and the entire road had been closed.
We – the passengers – were given the choice; we could wait on the bus or we could walk to the next stage on the bus route. I asked how long it was until the next stage and told not far at all. What wasn't taken into account was that the police weren't even letting pedestrians through so we had to go round a block to get 10 metres up the road! Then we had to walk for ages to find another bus stop.
Eventually, I got to Southampton and decided to pop to Lidl as I wanted something I'd seen in a promo email I'd received that morning. Turns out the items won't actually be in store until Monday, so I'd walked all the way down there for nothing.
I normally arrive at Ikea at 6pm…I didn't arrive until 7.30pm! I got an hour before I had to leave to catch the bus home again *sigh*
I heard later that the motorcyclist died in hospital and the car driver was arrested for driving without due care and attention.
Helen came to see me on Friday, we didn't go anywhere; just sat and knit and discussed what patterns we're doing and what we want to do. She raided my fabric stash and bought me a battery that will (eventually) power my miniSpinner – I'm waiting for it to arrive.
On Saturday, I was supposed to go to Jumble Jelly for a spin in, but I was so tired – I just really couldn't be bothered.
I've had two nights where I only got two hours sleep this week – Tuesday night and Thursday night; of course, I have work on Wednesdays and Fridays tut
So, knitting order this week went like this:
Sunday – Spinning (all day)

Monday – Rollator Bag
Tuesday – Flavya
Wednesday – Socks
Thursday – Decimal
Friday – Kid Seta
Saturday – Sylvi
I did a bit of spinning nearly every evening as I'm working on something for Claire and I'd really like to deliver it at Woolfest!
I now have £96 saved for my eSpinner, Jess bought me this cool Batman money box LOL